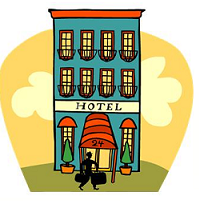 According to the report of Caitlin Dineen in Orlando Sentinel on May 26, 2015, the hotel industry in Orlando city is thriving this year. Hotels in Orlando area had occupancy of 81.4% during April 2015. In contrast, a year-end average occupancy during 2014 was only 73.7%.
Orlando, a center of tourist attractions, attracts tourists from all corners of the world all through the year. The city is famous for having some of the world's top theme parks. The major attractions are four Disney theme parks, two Universal Studio parks and Sea world. 
Because of ongoing successes in hotel industry in Orlando area, there are new hotels opening this year. Two new hotels operated by the Naples Hotel Group are expected to open in January. A Marriot brand hotel, Fairfield Inn & Suites, will open near the University of Central Florida. And also a Hilton brand hotel, Hampton Inn & Suites, will open right south of downtown Orlando.